12+ High In-demand Skills You Can Learn Online today. (With Guides)
*This post may contain affiliate links at NO additional cost to you read more
*
Are you Pursuing a career in a high-tech organization, a major corporation, or a well-known brand?
Perhaps you're trying to extend your career??.
Then you've come to the right place. By acquiring high in-demand hard and soft skills that will position you for employment, you acquire a competitive advantage over other candidates.
In order to be employable in today's world, you need to have certain talents. You'll need skills that distinguish your resume.
Fortunately, there are online training platforms that allows you to study these skills from the comfort of your own home.
What are the High Demand Skills to learn Online?
It is essential that you conduct research on the type of organization and the role you desire to apply for before submitting your application for that new job.
This will equip you with the understanding of the skills, experience, talents, and competences needed to obtain that position. Following that, you enroll in online platforms where you can gain skills.
For your reading enjoyment, we've collected a list of some of the most high demand skills to learn right now, as well as online courses for your education and critical skills that employers value.
Experts in the field selected these top skills. You can draw conclusions from these sources because both hard and soft skills are required in the employment market.
1. Hard skills (high demand skills to learn)
Employers look for a variety of practical and job-specific talents, which are listed below. As you can see, many of these skills are related to currently in-demand jobs.
Software Development, often known as Software Engineering, is a well-paid and in-demand profession. Its popularity is widespread.
Software development skillsets, have a wide range of work options.
They also have high average earnings across all territories and regions.
Many of the jobs on the Federal Skilled Workers program are in the field of business management.
Senior managers are in high demand across a wide range of businesses to assist with administrative and supervisory responsibilities.
Hence, this makes it a highly sought-after expertise all across the world.
Nursing is a field that is in high demand all across the world. This pattern is expected to continue in the long run.
Nursing, being one of the health-care fields, is in high demand, with many employment openings and a high average wage.
Nurses are important members of the healthcare team. There are numerous online colleges and courses available to help you improve your skills in a variety of fields.
In real life, a thousand or more projects are typically completed across sectors and industries. If not a project manager, who really should handle and lead a project group?
Project management is a combination of both hard and soft skills. They are normally in high demand all over the world.
Opportunities abound for people with the necessary qualifications in a variety of fields.
Platforms can provide you with free online project management courses.
Engineering is a discipline that is in high demand all over the world.
However, in countries where there are a large number of skilled engineers who do not see a future in that field, this becomes an issue.
As a result, persons with engineering skills and qualifications will be able to get a job.
Online engineering courses will prepare you in some basic engineering principles, as well as the fundamentals of sustainable construction and development.
Customer service, marketing, and sales roles are critical to any economy.
As a result, being able to successfully and professionally handle potential customers is a valuable skill.
You'll need to improve your abilities and competencies whether you're working on the phone or in an office setting.
Continue reading to learn about a variety of online course platforms available to those who want to learn this skill.
It's impossible to discuss in-demand skills without mentioning this top skill. Digital skills have been identified as critical in the modern industry.
Digital and IT abilities are necessary for entering and analyzing data.
They're controlled by digital systems or software programs. You still have time to brush up on your digital skills.
When you enroll in digital and IT skills classes, you will gain essential key abilities that will help you succeed in the current world.
Language skills are one of the qualities that employers search for most. Multilingualism is one of the topics that they commonly discuss.
The importance of language in closing international commercial deals cannot be underestimated.
As a result, this ability is in high demand. English, Spanish, French, and a variety of indigenous languages are spoken all over the world.
Mandarin, Cantonese, and Punjabi are among the other languages spoken. All of these languages are frequently sought by companies, giving those who can communicate successfully in multiple languages an advantage over other job hopefuls.
You can choose to learn English, French, or any other indigenous language online.
There are a number of online institutions that provide a variety of language courses. This may aid in the development of your abilities.
2. Soft Skills (high demand skills to learn)
Some of the most in-demand soft skills include:
Communication is an important soft talent that businesses look for in prospective employees. Regardless of the situation, interpersonal skills are essential (be it remote or face-to-face setting).
It's critical to be able to boldly express yourself, convey messages, and communicate successfully.
Communication and interpersonal skills courses include a wide range of topics, including communication style.
One of the top qualities that companies look for is the ability to be flexible and adaptive in any work environment.
Those who demonstrate dependability, loyalty, and a variety of other qualities, such as leadership skills, can be extremely important to employers during times of uncertainty.
To begin, take resilience classes to assist you manage with a constantly changing workplace and a fast-paced atmosphere.
You have the option of evaluating your strengths in these categories.
Problem-solving is a skill that is linked to other skills like decision-making and creativity.
If you're someone who can take on problems head on and come up with creative solutions to problems in the workplace and outside, you'll have a number of job options.
Employers all over the world are interested in this skill.
You can enroll in classes to learn how to collaborate creatively with others to solve problems.
It is impossible in every job setting that you will encounter that you will not work with people.
Employers in all industries place a high value on this competence. In today's workplace setting, the ability to work and cooperate effectively in a group is essential.
Online Platforms to Learn High Demand Skills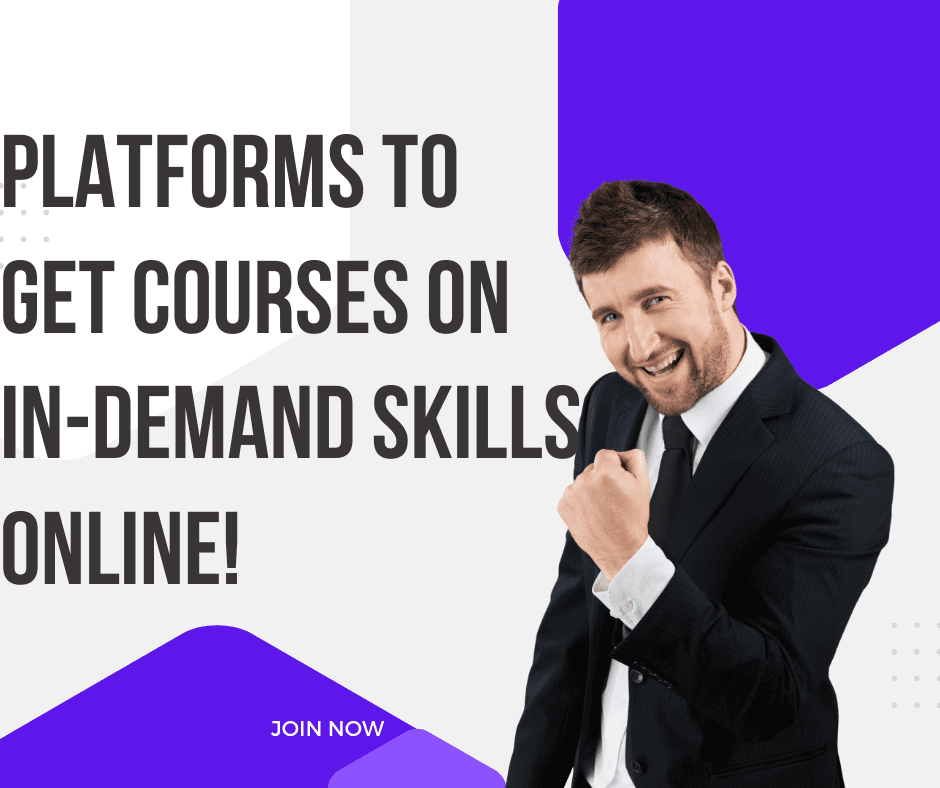 The skills on your CV can help you stand out from other candidates.
Your job search becomes much more fruitful as you gain a competitive advantage in the employment market.
To improve your resume, you don't have to spend a lot of money or go back to school.
Instead, you can take online classes to gain new skills and earn certifications. You can take these courses online from the convenience of your own home by using online learning platforms.
The following is a list of online course platforms from which you can learn.
However, you should be aware that the majority of these platforms provide free courses with the option of earning a verified certificate for a relatively low fee.
These online platforms include courses on a variety of subjects, including business management, career coaching, communication skills, and more.
In addition, the courses give certification alternatives that you can use on your resume. This will help you become more employable.
Check them out!
edX offers over 2,599 online courses that are equivalent to university-level courses.
Teachers from prestigious universities such as Harvard, Berkeley, and MIT teach a variety of subjects.
Some of the disciplines taught on this platform include humanities, engineering, business management, and computer science.
Alison provides over 1000 free courses that include certifications and diplomas.
Human resources, Operations Management, General Data Protection Regulation, Principles of Occupational Health and Safety Management Systems, and General Data Protection Regulation are just a few of the popular courses on our site.
Coursera is an online learning platform that offers degrees, courses, and certificates from prestigious universities and businesses around the world. You can set your own learning pace here.
More than 3,900 courses, 20 degrees, professional and MasterTrack certificates, and many other options are available.
Udemy is an online learning platform with over 100,000 courses.
These include business, photography, design, development, personal development, software & IT development, and software & IT development, with certification alternatives available after passing the exams—all of which are covered by the tuition price.
Udemy is not a website where you may take free online courses.
Most of Udemy's courses are only $10.99, and once you buy one, you have lifetime access to it.
The CreativeLive platform is for creatives, both in their hearts and in their businesses.
CreativeLive courses are taught by some of the most well-known artists from around the world.
Best-selling authors, Grammy winners, award-winning journalists, and well-known entrepreneurs are among the instructors. A monthly or annual class pass is required to access CreativeLive classes.
Some courses are available for purchase separately, while others are offered for free.
On their site, Creative Live has over 1500 courses available.
Platforms to Learn Hard Skills Online Courses
The following platforms listed below provide certifications for in-demand, marketable hard talents that you can add to your CV and credentials list.
Depending on your interests, you can learn HTML, CSS, JavaScript, Python, CDM Line, and SQL at Codecademy. They have an useful quiz to get you started if you're not sure where to begin.
Choose from a variety of categories to master the challenging skills you want. Writing, graphic design, animation, and more topics are covered in Skillshare courses.
You'll need to join up for a free two-month Skillshare membership trial to receive access to limitless courses.
Best Online Platforms to Learn Language Skills
There are a number of advantages to learning a new language.
One is to provide you with a competitive advantage, while another is to broaden your cultural viewpoints and improve your intellect, memory, and listening abilities.
Here are some free and low-cost solutions to fit your learning budget and requirements:
Learning is invariably enjoyable with Duolingo. You can get a lot of benefits while learning.
You may improve your fluency score, earn virtual currency, unlock new levels, and more in Duolingo.
Duolingo is simple to use and completely free. Learning is made easier with personalized and bite-sized lessons.
Livemocha's website and app allow you to learn any of the 18 languages they provide.
It allows you to practice your English with native speakers.
According to their website, they have an estimated 15 thousand new users per month from all around the world.
As a result, Livemocha has become well-known as a platform for learning a new language, with an ever-growing number of users. Livemocha is also a platform for free online courses.
Open Culture allows users to access free educational and cultural resources from a single location.
From YouTube videos to audiobooks, the Open Culture portal has compiled collections of free resources in 48 languages.
Online high demand Skills Courses with Certifications
The below two alternatives are certification-only programs that are tailored to certain skills.
Microsoft IT gives you the chance to get industry-recognized Microsoft certifications.
Data Engineers, Developers, Administrators, and Functional Consultants are just a few of the nine professional possibilities accessible.
Before subscribing to take the exam, you can complete the certification courses for free.
Google Digital Garage offers the Fundamentals of Digital Marketing certification.
With 26 modules produced by Google teachers, the course is free to take and recognized by Interactive Advertising Bureau Europe and The Open University.
Summary
Expanding your career alternatives by improving existing talents or learning new in-demand skills is a great and wise route for growth.
You can locate a class online to acquire or hone hundreds of skills, depending on your heart (and professional route). To get started, go to any of the above-mentioned online course sites.
You can improve your résumé by learning high demand skills online. Who knows, this could be an opportunity to improve your employability.
Share On: