Secrets to building a successful career
|
*This post may contain affiliate links at NO additional cost to you read more
*
Building a successful career will provide you with several perks as well as actual money-making prospects. Working your way to the top will improve your quality of life significantly. There are a variety of reasons why you might want to be successful.
One of the Advantages of knowing the Secrets to building a successful career is that, being successful in your work life makes you feel better about yourself in the eyes of others. It provides you with a sense of safety and accomplishment. Many people who went from having no job to having a good profession have stated that their lives have improved in practically every way.
Successful people from all across the world have some habits and activities in common. Following and finding out the tactics that professionals utilize, and adapting them to your needs, is the best way to achieve success.
The key to success is to continually strive to develop yourself, regardless of where you are or what position you have. Learn everything you can. Miracles do not just happen in business when you improve your talents.
Let's get into details:
1. Understand Your Objectives
Before deciding on a career path, you must first learn to know yourself. A lot of people follow a well-established routine throughout their lives. The sad part is that they either don't enjoy what they do or are unaware of how many other options are available to them.
To avoid this horrible situation, you must first establish your most sensible desires. Then, go a step further and conduct an in-depth introspection in which you should consider the relationship between your inner wants and your rational objectives.
They must be identical. You will not be fully satisfied with your professional life if you do not do so. It takes time and work to identify your goals, but it is a critical step in any successful human journey.

2. Make Your Resume Professional
Your CV is really a way for you to communicate, "I'm good at this, good at that, and I can help with this and that." That is why you should put together a professional and well-organized CV.
You may ensure that you will never be taken off guard by taking care of this issue. Opportunities abound, so be prepared with a strong resume at all times. Allowing pros to handle your CV is, in my opinion, a smart decision.
Careers Booster or VisualCV are two excellent services that can help you with your issue. They can assist you in creating a traditional or visually stunning resume.

3. Become Aware of Your Strengths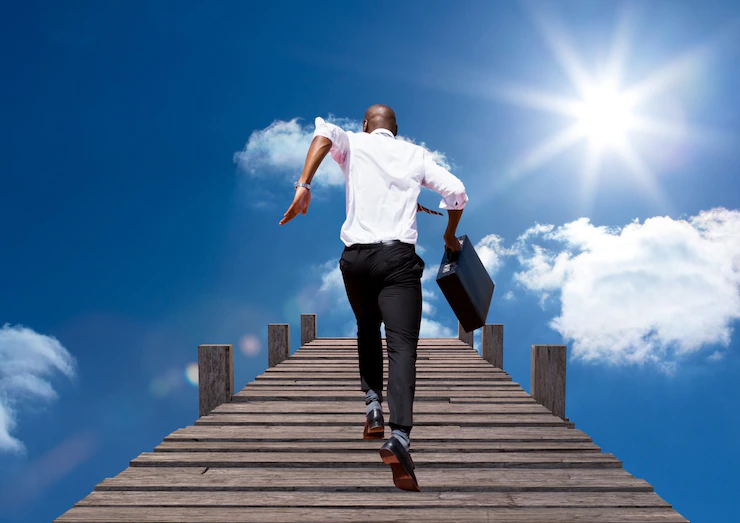 Personal development requires a high level of awareness. You can adapt your life to any circumstances you're facing by being conscious of your inner ideas, strengths, desires, and weaknesses. You'll also get a lot of advantages because you'll be able to put your knowledge and wisdom to good use.
It's preferable if you choose your long-term career based on what you already know about yourself. Do you have a lot of patience? Would you be able to sit in an office for eight to twelve hours and work on a computer? Or you'd rather be a football coach because you're genuinely interested in the sport and believe you'd be an effective coach?
You should choose a professional path that benefits your traits and qualities, regardless of your talents and weaknesses.
4. Acknowledge ultimate responsibility for your life.
One distinction between mediocre and successful professionals is their level of responsibility. Even if you understand the concept, you may not use it on a daily basis. You must assume the worst if something awful happens.
Even if you haven't done anything illegal, your presence, as well as earlier decisions you've made (such as trusting someone), are all elements influenced by your thoughts and behaviors.
Begin taking full responsibility for your actions and never blame others for your mistakes. That is the most heinous thing a person can do. Keep your cool and don't take anything personally.
5. Always set higher goals for yourself.
Another important aspect that distinguishes the successful from the unsuccessful is this. Your standards have an impact on how you think, believe, and act. You'll never be satisfied with less than you can achieve if your standards are high. The majority of the time, those with high standards are more successful than the norm.
Take a minute every two or three months to reflect on your standards and values. Try to improve them little by little until you realize you've reached your full potential.
6. Make a name for yourself
Nowadays, branding is crucial. Hundreds of millions of dollars are being spent by large corporations in order to establish themselves as the "big dogs" in the marketplace. It's an age-old business technique that practically every professional firm use. Your brand is your public image.
Professional staff should always develop their brand names and offerings. You can achieve this by opening a blog, setting up a professional social media profile, or simply offering outstanding services.

7. Make the appropriate connections.
It's all about opportunities and connections when it comes to networking. When you meet new people, you have the opportunity to take advantage of their abilities. You must, of course, return something: your services, your knowledge, or your money. Successful people are always networking and building long-term beneficial ties.
If at all feasible, attend industry gatherings to meet colleagues. Use social media to communicate with those in your field who may be located elsewhere. Make a point of offering support and use your network to identify opportunities and ideas to create healthy relationships.
Create social media profiles on LinkedIn, Twitter, and Facebook to get started. When it comes to this type of activity, these three networks are the finest options. Along the road, you'll come across numerous chances and career options.
LinkedIn, for example, is full of business professionals who are simultaneously promoting their company and connecting. Twitter and Facebook are also frequently used in these situations… Facebook is useful for a variety of purposes, including networking.
8. A Coherent Vision Іѕ Necessary.
While your mission is the reason for your existence, your vision is a picture of what you want to happen in the future.
Creating your own future is the best method to forecast it. For you, what is the larger picture? Can you imagine what your life will be like in 10, 15, or 20 years? Having a clear picture of your future provides your life greater meaning and allows you to focus all of your energy on creating a profession that is in line with your goals.
9. Fortify Individual Skill Sets, Education, Mindset, & Expertise.
There are a number of important success characteristics that distinguish high-fliers from the rest of the pack in any job path. It's critical to recognize these variables if you want to establish a successful career path.
Your task is to understand exactly what they are in regard to your job/position and then grade yourself on each one. The following seven skills, for example, are essential success factors in management: planning, organizing, staffing, delegating, supervising, measuring, and reporting (According to Brian Tracy).
You can learn about these aspects by speaking with others who are successful in your chosen area.
10. Be Versatile
You could picture yourself working in a variety of fields. Experiment to find out what you enjoy the most! Participate in a local non-profit organization as a volunteer. Become a member of an advisory board. Enroll in a course.
Are you in need of some extra abilities? Consider taking a course or upgrading your profession. That's fine, because you're on the correct track!
Summary
Our careers can determine the happiness and satisfaction we feel, as well as what society thinks about us. So go all out and make yourself proud!
I recommend you also have a read On What Really Matters Most.. You Or your Career?
See you on the other side!