HOW TO GET AN INTERNSHIP IN THE USA THE EASY WAY.
|
*This post may contain affiliate links at NO additional cost to you read more
*
In this piece, we'll discuss how to get an internship in the United States, regardless of where you live. We now live in a world that is extremely interconnected. Everyone has the opportunity to travel at a minimal cost and learn more about other cultures.
For example, we can travel within the Schengen Area on a single visa, fly from Madrid to New York in a few hours, and even visit China. All of these events would have been impossible only a few decades ago.
However, today, it seems that everything is possible. So, if we can travel to other nations, why not work with them? If in the United States why not get an internship in the USA?
What does an internship in business mean?
First, we have to understand what business practices are. Internships are a job opportunity for last-year students and recent graduates to gain work experience.
During this period, the intern is exposed to the real-world work environment of his area of ​​study. In addition, this opportunity helps bosses evaluate and see if the intern adapts to the organization as a potential employee. Therefore, this can be a potential job offer.
Although the conditions and requirements change from one company to another, the practices usually last between 3 and 6 months until the extension of one year. These can be paid or not, and the selection process is similar to that of any job interview.
While some think that the practices are significant in their professional career, others believe that they are not so decisive. But are business practices important? Will they help take off our professional career?
What are the Practices in Companies?
Is it really worth doing internships? That's the million-dollar question.
There are people who think they only work if they are paid and / or in a good company. On the other hand, there are those who bet on the knowledge they can provide, regardless of the company where they are made.
The two are correct in some way, but the underlying problem is that practices always add value. It is true that the CV looks great experience in a renowned multinational.
However, if someone only has the possibility of being a fellow in a small or unpaid company, that experience will be rewarded in the future.
For those who are still unsure about the advantages of doing business practices, take a look at the following: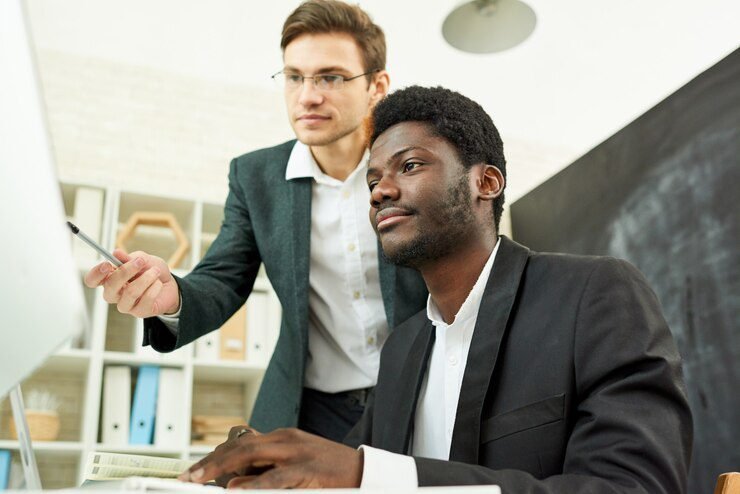 Benefits of Internship in Business
1. Future Job Offer
If you have passed the selection process and have achieved the internship, congratulations! This means that the company is very interested in you. Money and time will be spent instructing you. Therefore, if you do it right, you will most likely be hired in the end.
2. Extraordinary CV
Having completed an internship demonstrates that you are a serious person and capable of sacrificing X things for achieving your professional goals. In the same way, this new experience will give you an advantage over your competitors in the next job interviews.
3. Real Work Experience
Companies that offer business practices to university students are giving the opportunity to try the real world. This is an advantage for students because they can evaluate the company and the industry, and see if they really like it.
4. Improve Your Skills
All scholars receive training according to company standards. This means that trainees are receiving free training in new technologies, skills, methods, programs, etc. They can also improve their current skills.
5. Trust
Having achieved practices gives you more prestige. This increases confidence for future work.
6. Networking
While you are a fellow, you will attend many events and interact with industry professionals. Use these opportunities to create a network of contacts, mentors, references, and possible jobs.
7. Validate Credits
Many careers, masters, and doctorates allow you to validate elective credits for internships in companies.
How to do internships in the USA?
Where to get an internship if not in America, the land of opportunity? read on to know how to get internship in the USA.
A large number of businesses in the United States favor the offer available for internships to university students and recent graduates. Some of these options are summer practices, university students, governments, graduates, etc.
Depending on what type of student you are, there are several options. We will divide the requirements between national and international students (with visa F-1 and J-1)
National Students
If you have American citizenship, the application process will be easier. It will be similar to any other job interview. 
First, make a list of the companies you would like to work in that are related to your area of ​​study.
For example, if these computer engineering students may interest you companies like Amazon, Google, or Apple. 
Second, collect as much information as you can about the company, the internship request, the interview process, deadlines, etc. Large companies usually have several steps and tests for interviews (computer exercises, group interviews, individual interviews, etc.). 
Third, get ready for the interviews. Try to do your best, mentalize yourself to receive answers like yes, no, no answer.
Tip: keep in mind that this process can take a couple of months or even more. So request the internship as soon as possible.
International students
For international students, the process is similar. However, there are a few obstacles to overcome before being able to access an internship in the USA.
There are two types of visa you can get if you are a student or if you want to do business practices: F-1 and J-1. Both allow to take part in some practices, but there is some difference between them. For example, in what kind of practices can you participate.
F-1 Visa
An F-1 visa allows students to work on the university campus. This work could be considered part-time practices since they are up to a maximum of 20 hours per week. However, there are two options for working off-campus: the OPT and the CPT. 
To obtain them, a special authorization must be requested from the American government. This requires a large amount of bureaucracy that can be extended to more than three months. Therefore, if you wish to apply, get there as soon as possible.
CPT practices: they must be related to your university career, and they can also be used to validate credits. The most important requirement is that the first year of university is completed.
OPT practices: these are more focused on seniors. They do not need to be related to the degree as in the CPT, but they are more difficult to achieve. The good news is that they can last up to a year and are usually paid.
J-1 Visa
If instead, you enter the country with a J-1 visa, it authorizes you to study and work at the same time. In addition, if you already have an internship offer in any company, you must apply exclusively for J-1. This visa has two branches:
Scholarship: Students must have graduated in the last 12 months, or are enrolled in a foreign institution.
Training: foreigners need to have a degree or degree + one year of work experience. And not only that, but they also need an American sponsor for the government to approve the visa.
TIPS:
Getting a job on campus is a fantastic starting step. It's possible that you've never worked before. Working in the United States is a refreshing experience in any case. You'll need to speak clearly in English and be aware of your employer's expectations.
You should be putting together your job-search paperwork while working on campus to get experience. Many companies may ask for your resume first, and if you want to capture their attention, you need to follow some precise standards for writing and formatting it. For each job you apply for, you'll need a tailored cover letter in addition to your Resume.
Conclusion
If you follow these suggestions, you'll be in a fantastic position to land your first internship in the United States. If you get a few rejections, don't give up. Instead, look upon rejection as a chance to grow. Inquire with the hiring manager about what you can do to better or what you lacked in comparison to the other candidates they considered and hired.
Ascertain if the training provided by the organization meets your needs and will assist you in gaining the experience you desire for your CV/Resume.
Preparing for an internship in the United States involves long applications, so get a head start early. You'll need to figure out the visa requirements and find an internship with a US-based company.
If you like our post on "how to get an internship in the USA" kindly do us a favor by sharing this post on your social media accounts.