10 Highest Paying Jobs In Basic Industries 2022
*This post may contain affiliate links at NO additional cost to you read more
*
The Basic industries are the backbone of any country's economic growth. This industry generate major employment opportunities and provide huge investment potential.
The basic industries sector is also a major source of revenue for the government, as most industries in this sector pay high taxes. Also, Basic industries provide basic raw materials and basic products that go into other kinds of industries.
However, It's also Important to note that basic industry jobs tend to be more physically demanding than some other career paths, despite the fact its always evergreen and in high demand regardless of the state of the economy.
So, i mean to let you know that the Career path in this Sector might not be as remote as Others., Just so you Understand that more physical effort is demanded in this field but the Pay is worth it too!
What are Basic Industries?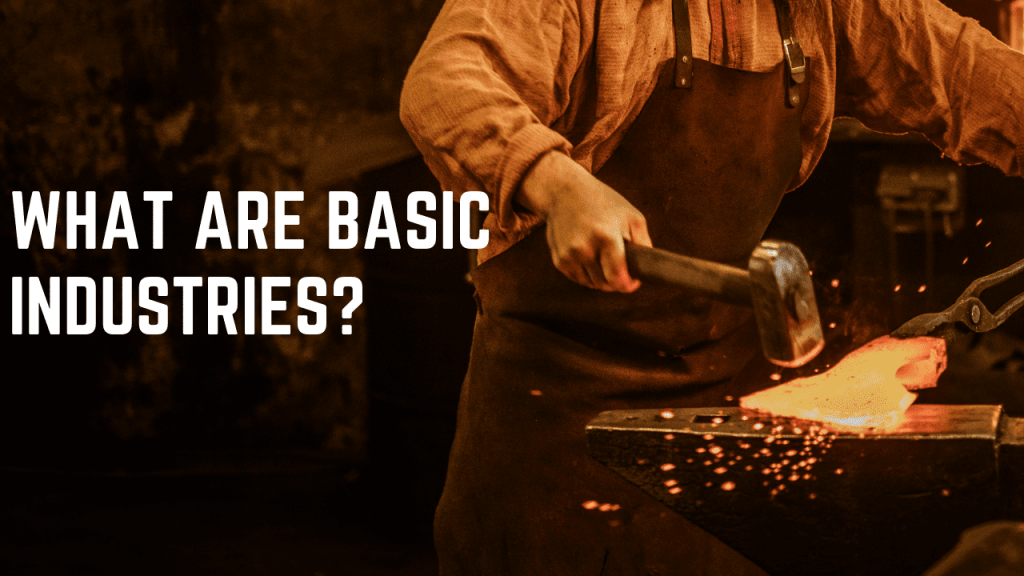 Basic Industries are businesses that produce the raw materials or components used in other industries. This implies they provide services and goods that help with the seamless operation of households, factories, and companies.
They are the economic sectors that produce both raw materials & basic manufactured products, and are usually a major provider of inputs to other industries and services, with a significant portion of their production exported.
What do Basic Industries jobs Pay?
If a career in basic industries is what you're looking for, then you'll want to consider the salaries of jobs in this field. Depending on your interests and skills, there are several different types of positions available, including supervisory and executive roles.
For example, the average salary for a supervisor working in this field is about $76K annually, while an executive earns about $108K per year.
According to the Bureau of Labor Statistics, more than 14 million Americans work in basic industry jobs, many of which don't require a college degree.
So what are those jobs?, continue reading below..
The 10 Highest Paying Jobs In Basic Industries 2022
Below are the Highest paying Jobs in Basic Industries and their average salaries per year. These are verified average estimates according to Payscale, Salary.com and Glassdoor in 2022.
1. Synthetic chemists:
Synthetic chemists work to create and develop synthetic materials, chemicals and fuels. They have knowledge and competence in chemistry, physics and engineering.
In addition, they also deal with complex industrial processes and are often required to apply mathematical models to the chemical reactions that they carry out.
Average Salary per year: $81,000 +
2. Petroleum Engineers:
Petroleum engineers are responsible for finding, drilling, and extracting petroleum from the earth. These specialists do this by exploring geology and geography to locate oil and other valuable minerals. Once found, these resources can be extracted straight from the ground (if onshore) or taken via ship or pipeline to a refinery.
The Petroleum engineers apply the principles of applied science and mathematics to solve technical problems in the extraction and processing of crude oil and natural gas.
They design systems for drilling and producing oil, managing extraction methods, operating equipment and processing fluids by separating it from the crude oil.
Average Salary per year: $100,000 +
3. Geologists:
Geologists are the scientists who study the Earth's history, structure and other physical features. Their knowledge of rocks and minerals is used to find sources of energy such as coal, oil and gas.
Geologists also understand the movement of Earth's land masses by studying tectonic forces that push up mountains and volcanoes or cause earthquakes.
They use their knowledge of geology to find metals used for tools and machinery such as iron, aluminum, copper and titanium.
Average Salary per year: 65,000 +
4. Business Development Engineer:
A Business Development Engineer (BDE) is someone who looks for opportunities and develops new market opportunities for their company. They make sure that the corporation meets goals and deadlines by establishing relationships with business partners, vendors, clients, and others.
Business Development Engineers are the primary point of contact between their employers and a business outside of their company.
Average Salary per year: 95,000+
5. Health and safety officer:
The Health and safety officers are responsible for making sure that basic industries are running smoothly and safely. They administer rules and regulations on equipment being used, such as forklifts and cranes, to ensure operators have the basic skills necessary to operate these vehicles.
Health and safety officers ensure that all staff have the information they need to work safely.  They also look out for hazards as they happen, so that these can be dealt with quickly before someone gets hurt or ill.
Average Salary per year: $63,000 +
6. Pipefitter:
A pipefitter works in industrial and commercial sites, building assemblies of pipes and fittings.
This one requires physical strength and stamina, but above all else, winning the trust of your clients by producing a quality product every time is key.
Furthermore, Pipefitters are trained to install, maintain and repair boilers, tanks, pumps and other equipment used in the storage, transportation and distribution of water and industrial gases.
Average Salary per year: between $46,512 and $72,858
7. Mining and Geological Engineers:
In terms of industry, Mining and Geological Engineers work in the Basic Industries sector.
This encompasses a number of industries such as coal mining, oil and gas extraction and support activities for mining.
Mining and Geological Engineers are responsible for planning, designing, construction and routine maintenance of these industries' infrastructure.
Average Salary per year: $97,090
8. Metallurgists:
Metallurgists are part of the basic industries and put their knowledge to work to help people benefit from the earth's natural resources while creating products that make daily life easier.
Metallurgists are chemists who develop, produce and test alloys of metals. They study the physical properties of these alloys and determine how changes in the manufacturing process can help make them more useful.
Metallurgists also conduct experiments to determine how an alloy might react in a specific environment and assess its long-term durability.
Average Salary per year: $83,597 +

9. Truck driver:

The work of a truck driver in the basic industry is to transport goods and materials from one place to another, usually over longer distances.
They are responsible for receiving, sorting, cataloging and delivering goods that are manufactured or purchased from other companies. They have some of the most demanding jobs in the basic industry.
Average Salary per year: $47,000 – $60,000 +
10. Agricultural Chemists:
The Agricultural chemists study the growth and variation of organisms, often in lab settings, while they are under the influence of chemicals.
They investigate ways chemicals can be used to improve crop yields, reduce harm to the environment, and increase crop resistance to pests, drought and cold temperatures.
Agricultural chemists in the Basic Industries develops new ways to improve plant growth and reduce crop damage.
Average Salary per year:$75,000 – $87,000 +
Is Basic Industries a Good Career Path?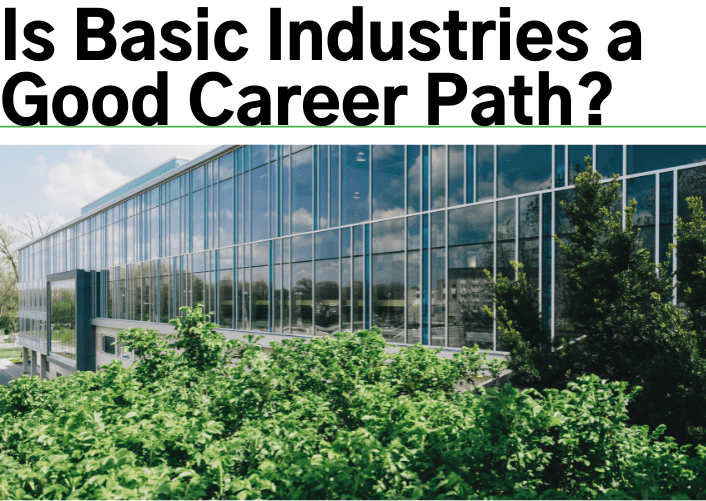 Yes, Basic Industries is a Good Career because it covers the manufacturing, mining and construction of products for the use and satisfaction of domestic needs. These include chemical, foodstuffs, rubber, petroleum and other mineral products.
The industry also includes energy generation through the use of fossil fuel, nuclear power or renewable materials. Jobs in this type of industry are great for those who want to learn a lot about how a business runs from top to bottom with many possibilities of making a fortune too!
This sector is essential to sustaining life and growth in many countries. Starting your career in basic industries is not only a lucrative option but also exciting since you will be able to utilize your creative abilities to bring about change in the society that you live in.
Why should you work in the Basic Industries sector?
The Basic Industries sector is a core industry of the economy and commands huge opportunities for you to explore. But there are other reasons I believe you should consider this career path.
Check them out below:
Room for advancement:

Employees in basic sectors frequently have opportunities to develop their careers. This is because these industries are often huge and offer a variety of job opportunities.

L

ucrative

:

Employees in basic sectors are frequently offered competitive salary and benefits packages. Because these sectors are often huge and profitable.

Job satisfaction:

Employees in basic sectors frequently express high levels of job satisfaction. This is most likely owing to the industry's stability, as well as the satisfaction that comes from working in a sector that is vital to society. Read my article about Job Satisfaction Here.
Summary
The Basic Industries sector has the potential to be a very lucrative career choice. This sector of an economy is one where the basic needs of people are satisfied like food, clothing and shelter.
For example, if you choose to become an agriculturist as a profession, you can use your skills to save crops from natural disasters or pests and provide fresh produce for people who are in need or who wish to grow their own green stuff at home. Towing the Path is definitely a good call.
Over to you, what do you think of this career path? Your Comment and Sharing this post would be great!
Share On: