20 Best Side hustle Ideas for College Students (Without Experience)
|
*This post may contain affiliate links at NO additional cost to you read more
*
Finding a job, especially when you're in college, might be challenging.
Many jobs are suitable for college students since they work around their class schedules and allow for part-time work.
If you're a college student seeking for work, Relax as i take you through the lists of works you can engage in with little or no working experience.
Each one of the following jobs provides the assistance that students require to stay afloat until graduation day.
Also, Many jobs out there provide flexible work hours and schedules, making it possible for students to balance school and work.
Working part-time while in school might be a good way to save money or earn spending money.
Let's take a look at some of the greatest college job opportunities:
20 Side hustles Ideas to make money as college student
1. Administrative Assistant Position
Working as an Administrative Assistant is an excellent method to obtain "real-world" experience.
Choose a company for which you'd like to work after graduation and establish a relationship with it.
You'll probably be working with a group of older graduates here, which will provide you with a glimpse into your future job options.
2. Position of Research Assistant
You can Work as a Research Assistant for one of your professors to gain experience in your topic of interest.
Many of the paid positions will pay well. These positions are convenient because they frequently did their study on campus.
3. Ambassador
Being a brand ambassador is another intriguing opportunity for college students. And i mean Any type of brand will do.
Many businesses reach out to influencers. Brands like Coca-cola, Nike, Oakley, Apple, Aspen, Skiing Company, Postmates, TaskRabbit, Airbnb, and Shipt are among them.
Consider your passions and favorite brands, and then search the Internet to discover whether they're searching for brand ambassadors.
4. Work as a Library Assistant
Because of their relatively high compensation and on-campus location, library positions are one of the most convenient positions for students.
This job will provide you with lots of customer service experience as well as the opportunity to engage with college students for the majority of your shift.
The best part is that you will typically have enough time to complete your assignments.
5. Participate in a Research Study
Despite the fact that this is not an official position, they are paid positions that students can take depending on their availability.
Check with the psychology department at your institution to discover what research studies are searching for volunteers.
These are straightforward, non-binding, and adaptable to your schedule.
6. Working in a Café
Working in the dining halls of your university will require little to no prior experience and will pay more than other restaurant employment.
This is not so fancy or sweet for a job you might love to do, but it will pay you and provide you with regular meals for free and also save you time and money in the cooking.
7. Security officer
Although you will need some training, it is a relatively basic job to perform, and you must be prepared for anything—especially in bars. security guards earn an average of $13.72 per hour at various restaurants and bars.
Working in a pub or bar from 5-7 p.m. as a student could work for you if your lessons are in the mornings and afternoons. You can always keep your schedules tight and also make sure you have adequate rest.
8. Tour Guide on the Campus
Working as a Campus Tour Guide will provide you with public speaking practice, as well as the opportunity to persuade prospective students to attend your university.
This job is simple and enjoyable as long as you are willing to move throughout the tour.
9. Software Engineering Intern
Startup organizations consider you a hot commodity if you have the abilities to work as a software engineering intern.
You can Take advantage of the strong demand and gather experience in college so that when you graduate, you will be ready to enter the engineering field.
10. Home sharing
You can put your room on the market around the holidays, when demand (and rates) are at their peak.
You may rent out your property to vacationers and visitors through websites like Homestay, Airbnb, and FlipKey.
This is a fantastic method to make money without having to work. This is probably not the best option for you if you live in a smaller house.
11. Cashier Position
This job is ideal because it takes almost no experience, and is available in most college cities.
Working the cash register is one of the responsibilities of a cashier as well as processing payments, issuing receipts, etc.
12. Social Media Manager
Analyzing engagement data, spotting trends in customer interactions, and developing digital campaigns to establish community across social media platforms are just a few examples.
Do you think Snapchat and Instagram have been a waste of your time? You've actually been learning something useful.
Put your social media management abilities to work for a local business or startup now.
13. Child Care Services
You can also try offering your babysitting services to nearby families by posting a note on NextDoor.
If you wish to work in adult and senior care, Care.com is a great place to start.
These jobs are perfect for college students because they allow you to set your own hours and pay you well.
14. Fruit Juice Making
These days, juicing is all the rage. Work at one of the new juice shops in your neighborhood to get in on the action.
That would be an excellent opportunity for anyone with an enthusiasm for fruit and a commitment to living a healthy lifestyle.
One of the biggest perks is that most smoothie shops close early, leaving your nights free as a college student.
15. Shop Assistant
Students with unpredictable and demanding schedules frequently work in retail.
They work in bookstores, shops, and even supermarkets.
It's one of the finest part-time jobs for college students because it offers a range of shifts, allowing students to attend crucial seminars and lectures without missing out.
You can look for classified advertisements online or go to the city's main stores.
You may also sign up for firms like Instacart or Shipt on AppJobs and make money doing grocery shopping.
16. Blogging
Many companies involve bloggers to help them develop appealing and relatable material for their websites.
Because the work is mostly done remotely and completed online, you don't have to limit your employment search to local businesses.
You might also take the initiative and contact your favorite blogs to see if they're searching for contributors.
17. Photographer
Because you'll be working at events on nights and weekends, this position is ideal if you need a flexible schedule.
Reach out to local photographers to see if they need an assistant if you have an eye for shooting stunning situations.
I have made an insight that might help you on this path. Also see Professional Photographers: Estimated Earnings, Categories and more!
18. Front Desk Associate at Yoga Studio
These are welcoming, hardworking, and enthusiastic individuals who enjoy sharing their passion for climbing, yoga, and fitness with others through exceptional customer service.
Also, if you enjoy working out and can push others to do so, this is the job for you. You won't require much experience, and you'll also save money.
19. Mechanic at a Bike Shop
If you enjoy biking, this is the ideal employment for you to turn your hobby into a source of income.
Bicycle technicians can work in a variety of settings, from major department stores to small neighborhood bike shops.
Research to see whether your college has a local co-op or volunteer bike club that can teach you the fundamentals.
20. Designer of Graphics
You can work as a freelance designer, write content for local firms, or intern at a marketing firm in your area.
There are endless work opportunities for you if you have a strong design sense and know how to utilize Adobe Photoshop and Illustrator.
I got an Article on this in the past, I'd recommend Graphic Designer Career: Learn All About Being a Graphic Designer.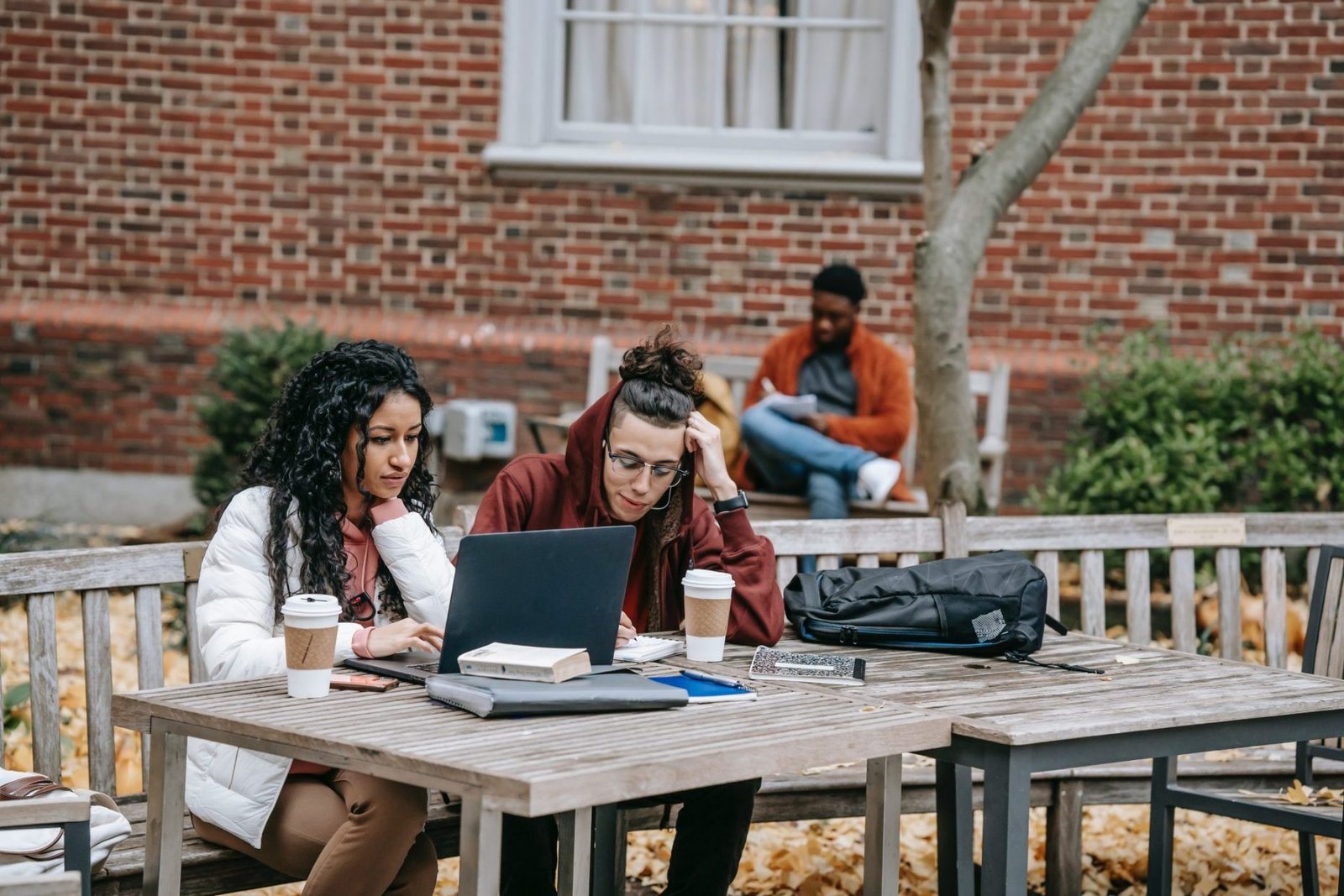 Also On Jobs Ideas for College Students.
Are student jobs taxed?
Student Jobs are Taxable.
According to Finance Rutgers, It is vital for student employees to understand that they are not automatically tax-free, as their earnings are subject to federal and state income taxes.
Certain student workers, however, will be excluded from withholding of Social Security and Medicare taxes (FICA taxes).
Is being a student considered an employment?
Being a student is not considered an employment or any type of occupation in the society even though there are thousands of students working while studying. The difference is clear.
Also, Students can be either classified as employed or jobless, regardless of whether they are in school full-time or part-time.
There are:
– Entry Level Jobs
– Full Time Jobs –
– Part Time Jobs
– Internships and Programs
How do college students make money?
There are three major ways college students can make a living, they are:
1. Campus Jobs e.g Library Assistant, Research Assistant etc.
2. Off-Campus Jobs e.g Summer Agricultural Work, Repair Cars and Bikes for quick bucks etc.
3. As an Entrepreneur e.g Become a Freelancer, a Blogger, a Designer etc.
How many hours can I work as a college student?
Depending on the Work or Position, the average time to work as a college student is 15-20 hours per week.
But as an Entrepreneur, there is no specified amount of time due to the flexibility and freedom to work at your own schedule.